Misija za pola miliona kredita – vikend akcija
Ovog vikenda se farmaju krediti i to kakva cifra, 500 000 silvera! Pola miliona za vikend. Deluje zanimljivo.
Misija za pola miliona kredita
Da bi ispunili misiju treba da skupite 5000 XP. I tako 6 puta.
Ali imate ogranicenje na 3 puta dnevno.
Dakle jedan dan odarite 3 puta drugi dan tri puta i gotovo, 500k silvera u vasoj kasici prasici.
Kad se spominje prasica  tu je skin za "krmacu" Jadgpanzer E100:
JadgPanzer E100 skin – Black Camo Skin
A da ovaj vikend ne bude samo to u fokusu tu je i pomalo vec standardnih  X2 na posadu za svaku pobedu.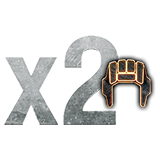 Srecno na borilistu i GG!
744