Dunkirk specijal – Vikend akcija 22. – 24. Jula
Kao što smo početkom meseca najavili, za ovaj vikend je spreman malo drugačiji specijal. Dunkirk je film koji se bavi tematikom Drugog Svetskog Rata. WarGaming je podržao projekat.
Dunkirk specijal sadrži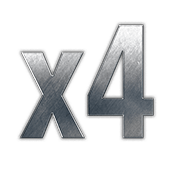 Čak puta četiri za prvu pobedu! Uz to ima i posebna misija ovog vikenda a to je borba za Amblem:

Da bi dobili ovaj amblem otreno daje da ostvarite jednu pobedu i da budete medju najboljih 10 po zaradjenom iskustvu. Misija se može ispuniti samo jednom po accauntu.
Ne bi bilo loše zameniti oznaku neke nacije koje baš ne volite, ali tenk volite. Ova deluje kao zanimljiva nalepnica.
Srećno na borilištu i GG!