Dodatni resursi za klan – zaradi u randomu
Svedoci smo da mnogi komandiri izbacuju igrače koji ne učestvuju aktivno u skupljanju resursa u Stronghold bitkama. Ali sad je tu novi način da se zarade resursi za klan. Igrajući svoju igru, u svom terminu.
Dodatni resursi za klan – zaradi u randomu
Resursi se mogu zaraditi igrom sa tier X tenkovima. Ukoliko ste igrali već sa desetkama već ste doprineli jer je WG iznenadio sve i objavio da je 24. Agusta počelo skupljane "kockica".
Na koji način se zaradjuju kockice?
Slično kao i u rangiranim bitkama i ovde neće svi koji udju u bitku poneti resurse.
Sad će i igrači koji igraju u terminu jutarnjeg programa doprinositi. Mnogi zbog obaveza i rada po smenama nisu u mogućnosti da igraju u večernjim časovima. Ovo je kao stvoreno za njih. Još ako ih je više i igraju u platunu onda je to extra. Jer kad se igra u platunu dobijaće se 50% više. Dakle ako je vaš platun najbolji po XP. I umesto da sva trojca zaradite po 30, zaradićete 135 kockica ukupno – 45 svaki. Bonus važi i kad su samo dva igrača u platunu, naravno.
Ostaje pitanje koliko će se dobijati u 30vs30 u Grand Battle modu. I da li je ovo zapravo način na koji WG želi da privuče igrače da igraju ovaj vid bitke. Za sada se zna da će biti nešto slično kad sezona počne.
Kako proveriti količini resursa iz randoma? Lako.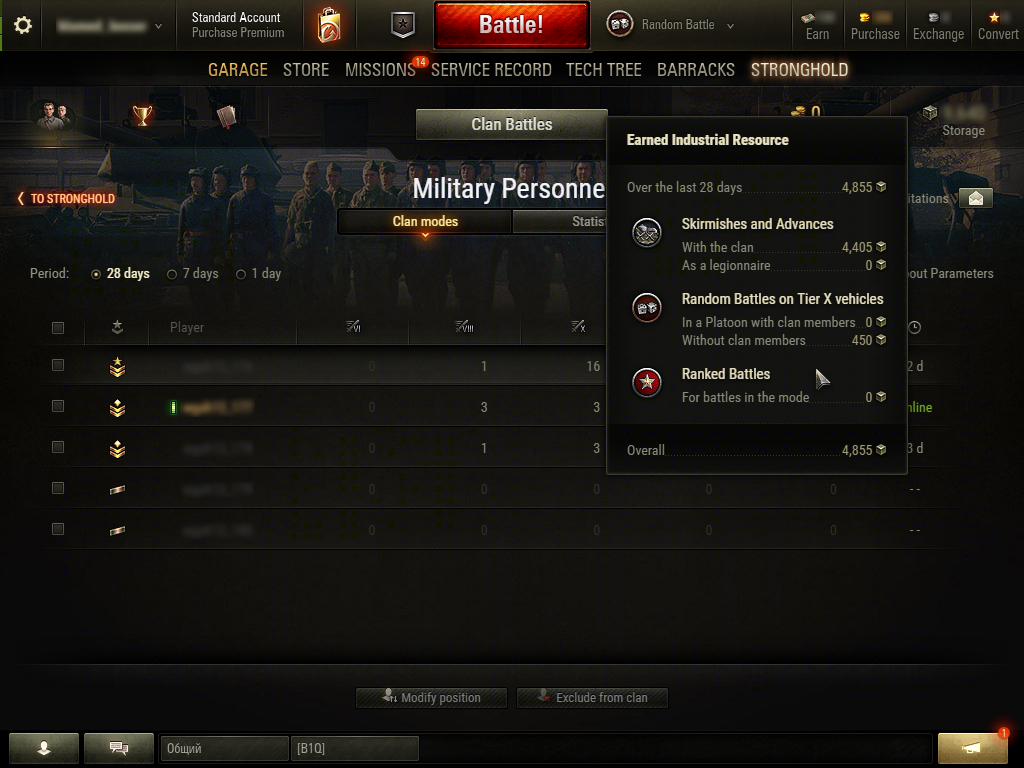 Popusti na objekte u Strongholdu
Odlična vest za sve klanove sa SH na nižem tieru. Od 11. do 17. Septembra na niže tierove objekata – gradjevina biće popusti.
Tier 1 – 4 = 50%
Tier 5 – 6 =30%
U tom periodu važiće sledeća tabela:
Obaveštenje 3 nedelje unapred. Komandiri, oficiri mudro odigrajte ovo. Ne daje se baš često ovakav popust.
To vam je to 😀 Srećno na borilištu i GG!